A Little Bad Can Be Good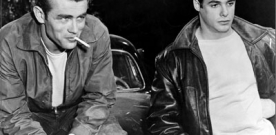 A guest post from our own Les Murphy.
How many times have you noticed a great looking woman, and thought "now she's my type"? Then you notice her date who is by all accounts a "Bad Boy". Maybe she's YOUR type, but you are obviously not HER type. We see this stereotypical bad boy character in almost every movie and television show that graces our screens and they always get the girl.
What is it about this type of man that women find attractive? Here are just a few highlights of the Bad Boy persona.
Of course the Bad Boy is confident, a trait we all find attractive in relationship material. Being self assured and decisive are traits that women enjoy in a man because it makes them feel safe. The man does not even have to possess model good looks in order to be attractive to women as long as he exudes confidence and is self-assured.
Bad Boys are interesting and present a "challenge" to women. Everybody loves a challenge. Who wants to ride the kiddy bumper cars when you could ride the roller coaster? The quest for excitement, the escape from her boring daily grind, the satisfaction of solving the "mystery" of the Bad Boy's angst, or just the pleasure of walking on the wild side are all good reasons to pursue the Bad Boy.
Bad Boys go to cool places and do interesting things. Every woman wants to be entertained, or at least exposed to fun new experiences. Where ever the Bad Boy is˝is the place to be, and what ever activity he chooses˝.is cool or has an element of danger. Who wouldn't want to hang out with someone like that?
When you combine all these elements together you come up with a mix that is obviously sexy and attractive to women. Now I'm not suggesting to the men that we all run out and become thrill seeking, leather jacket clad, brooding ego maniacs in order to date more successfully. However, there are many elements of the Bad Boy persona that can be incorporated into our own styles and make us more attractive to the opposite sex.
It's good for us to step outside the box and explore our Bad Boy side. You never know, it might just surprise and attract someone who has been watching you from the wings!
Single Atlanta is the most trusted Atlanta matchmaker. Our process is safe, fun, and easy. We make personal hand-selected matches with people who share common interests, core values and life goals. If you are ready to start your adventure, Call Us at (404) 250-9292 or fill out our Fast Form below to learn more and Be Our Next Match!
Les Murphy is Co-Founder and President of Single Atlanta. Periodically we let Les take a break from his day-to-day activities to contribute a male perspective on dating and matchmaking in Atlanta.